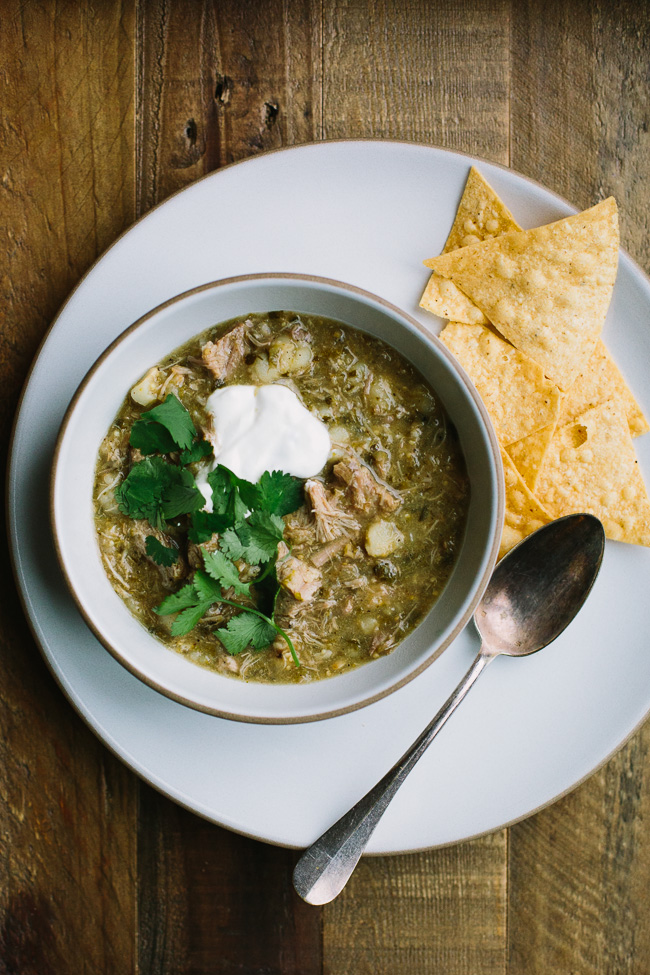 Ryan's workplace recently had a chili cook-off as an effort to build community within his department.  While participation was not mandatory, it was encouraged, and Ryan ambitiously took it upon himself to make his own chili.  Always careful not to overburden me with extra tasks, he wanted this to be his project.  He's thoughtful like that.  After a quick browse through America's Test Kitchen Slow Cooker Revolution, he landed on this tomatillo chili. He wanted something a bit different but also wanted to stick with familiar ingredients, and this seemed to fit the bill.
The plan was to work ahead over the weekend and freeze the chili so all he'd have to do later in the week is thaw and heat.  Although it seemed to be a carefully thought out plan, when it came time for the cook-off lunch, the chili remained partially frozen and cold in spite of being heated in the slow cooker all morning.   After all of that planning, cooking, and transporting, he ended up bringing it all home and we ate it ourselves.  Unfortunate and disappointing, yes, but I have to admit I enjoyed having the extra for us.  The whole family enjoyed this one so much that I wanted to share it with you all too.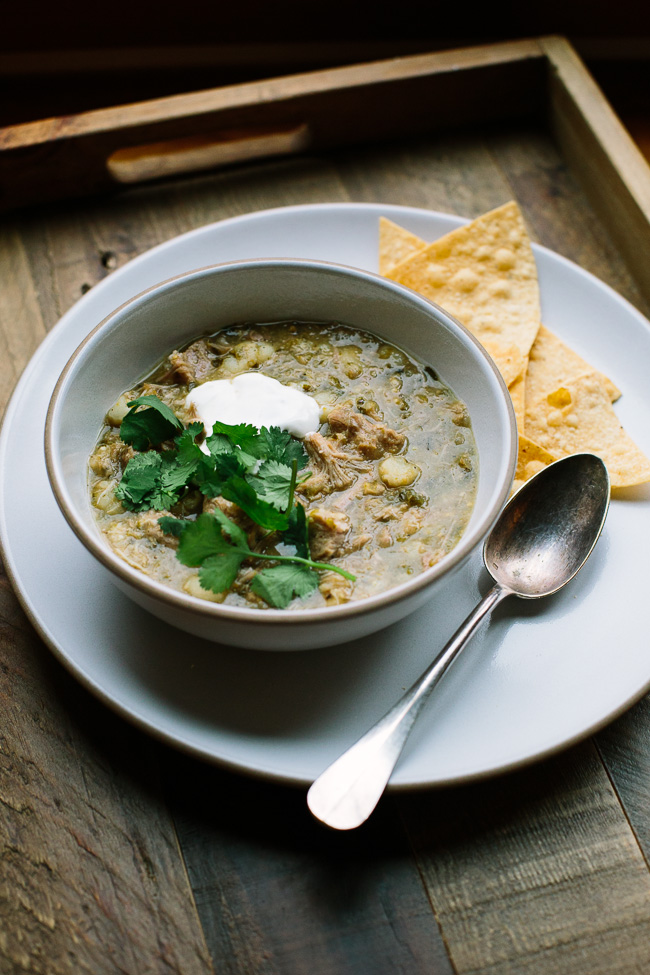 Like with many of America's Test Kitchen recipes, this one requires a few extra steps in the preparation, but I hope you'll agree that it's worth the work after you give it a try.  It begins by broiling fresh tomatillos and onions until they become just slightly charred to help achieve that deep smoky flavor.  Next these vegetables are given a quick whirl in the food processor to create the base for the chili.  The oregano, cumin, and cilantro all help to make this bright chili full of flavor and depth.  If time is scarce in the morning, I'd suggest chopping all of the vegetables and roasting the tomatillos the evening before to keep the morning prep time to a minimum.  To serve,  I especially like this chili with crushed tortillas sprinkled over with dollop of sour cream and a few extra snips of cilantro.
Print
Slow Cooker Tomatillo Chili with Pork and Hominy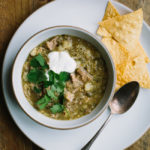 Ingredients
4 pounds pork shoulder, trimmed and cut into 1 1/2 inch chunks
1 tablespoon kosher salt
1 teaspoon ground black pepper
1 1/2 pounds tomatillos, husks and stems removed, washed and dried, cut into halves
1 large onion, cut into 1-inch pieces
4 garlic cloves, minced
1 tablespoon minced fresh oregano, or 1 teaspoon dried
1 teaspoon ground cumin
2 tablespoons extra virgin olive oil
1 28-ounce can hominy, drained and rinsed
2 1/2 cups low-sodium chicken broth
2 large or 3 medium-sized poblano chills, seeded and minced
3 tablespoons minute tapioca
2 teaspoons natural cane sugar
2 bay leaves
1/4 cup minced cilantro
extra cilantro, sour cream, and tortilla chips for serving
Instructions
Season the pork with salt and pepper and set aside while you prepare the vegetables. (It's even better if you season the evening before it goes into the slow cooker.)
Line a baking pan with aluminum foil. Arrange tomatillos and onions on the pan and toss with garlic, oregano, cumin, and olive oil. Broil until vegetables are soft and slightly charred, about 5-8 minutes, rotating pan halfway through the broiling.
Allow the vegetables to cool for a few minutes, then place them in the bowl of a food processor along with any accumulated juices. Pulse until tomatillos and onions are almost smooth, about 10-12 pulses. Transfer mixture to slow cooker.
Add the hominy, broth, poblanos, tapioca, sugar, and bay leaves to the slow cooker and give a quick stir to incorporate. Nestle the pork in the slow cooker being sure to immerse the pork under the liquid. Cover and cook until pork is soft and tender, about 9-11 hours on low or 5-7 hours on high.
Remove fat from surface and discard bay leaves. Stir in cilantro and season to taste with additional salt and pepper. Serve with additional cilantro, sour cream, and crushed tortilla chips.