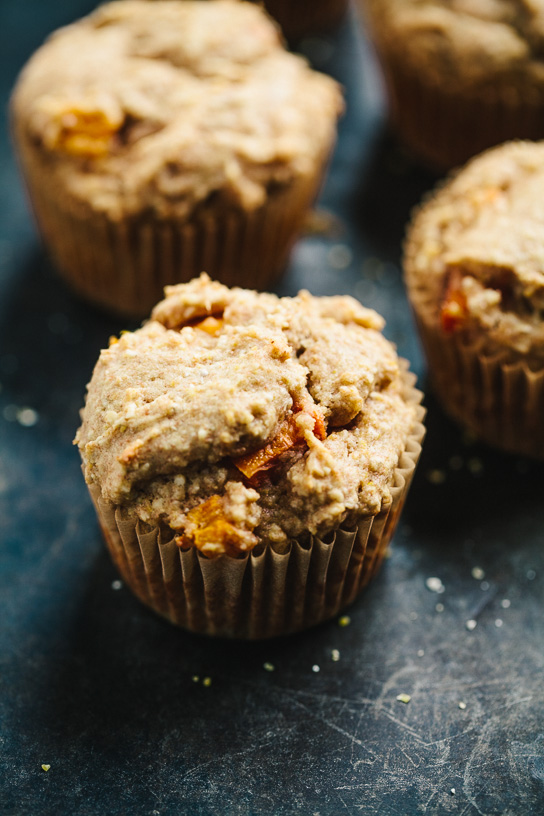 If I had to choose one favorite fruit during the winter season, it would be persimmons.  I personally tend to favor the fuyu variety over hachiyas because I prefer a slighter firmer bite to the fruit.  Usually persimmons don't last long enough around here for me to bake with them, but I recently discovered a sale and came home with enough persimmons to fill our entire fruit bowl.  Adding persimmons to these simple cornmeal muffins was the first idea that came to mind.  As it is when baking and roasting other types of fruit, the sweetness of the persimmons is pleasantly intensified after baking.  These muffins are whole grain, naturally sweetened, and have fragrant citrus undertones.  Baking a batch of these muffins is a bright and cheerful way to begin the day, especially on those cold and gray mornings.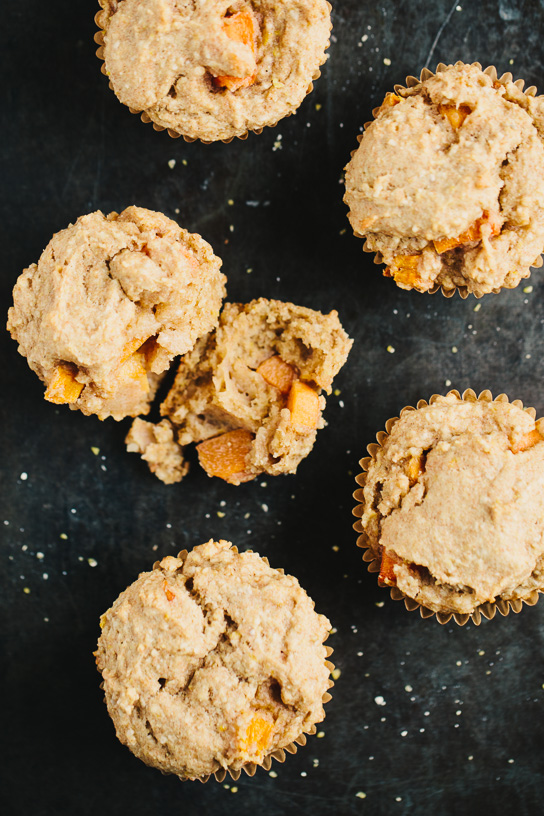 Print
Persimmon Cornmeal Muffins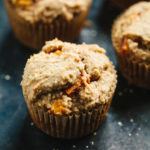 Ingredients
2 tablespoons white chia seeds
1/2 cup whole milk
1/3 cup yellow cornmeal
1 1/2 cups spelt flour
1/2 cup almond meal
1 tablespoon baking powder
1/4 teaspoon sea salt
zest of 1 orange
1/2 cup freshly squeezed orange juice (from 1-2 oranges)
5 tablespoons unsalted butter, melted
1/3 cup maple syrup
1 tablespoon vanilla extract
2 cups peeled and diced fuyu persimmons (about 3 persimmons)
Instructions
Preheat oven to 350. Butter or line a 12-cup muffin pan.
In a large mixing bowl, whisk together the chia seeds and milk. Allow mixture to stand for 10 minutes to thicken.
In a medium bowl, whisk together the cornmeal, spelt flour, almond meal, baking powder, and salt.
Add the orange zest, orange juice, butter, maple syrup, and vanilla to the chia seed mixture and whisk together. Add the dry ingredients to the wet ingredients and stir with a wooden spoon until just combined. Gently fold in persimmons.
Divide muffin batter among prepared muffin cups.
Bake 30-33 minutes, until a toothpick comes out clean. Allow muffins to cool in the pan for 5 minutes before transferring them to a wire rack to finish cooling.