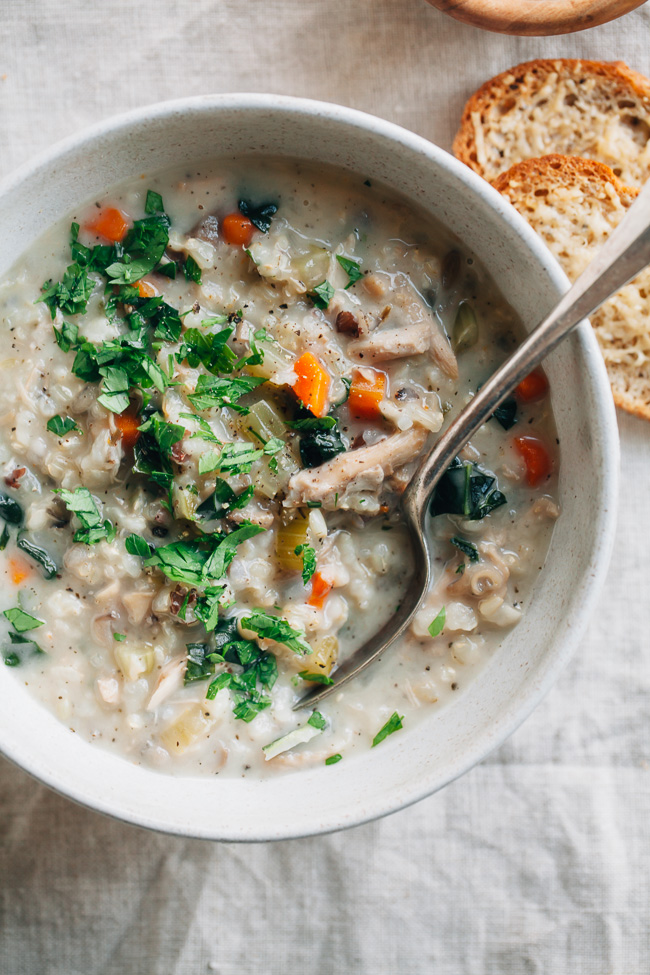 Keeping it short today and sharing this super adaptable slow cooker soup, just in case you're still looking for a recipe to finish up those Thanksgiving turkey leftovers. It's hard to go wrong with this one since it can easily be made with whatever grains and vegetables you have on hand.   Justs a bit of morning prep and then dinner will be quietly waiting and warm whenever you're ready for it.  The original recipe called for wild rice, but since my kids aren't huge fans of wild rice (yet), I swapped half the wild for short grain brown rice and used this wild rice blend for the other half.  Baby steps.  An abundance of vegetables– kale, mushrooms, carrots, celery, and onions– round out the soup to make it a nourishing one-pot meal.   After all of the Thanksgiving feast scramble, I always feel that it's nice to have some quieter simpler times in the kitchen.  This soup is perfect for those slow post-Thanksgiving days.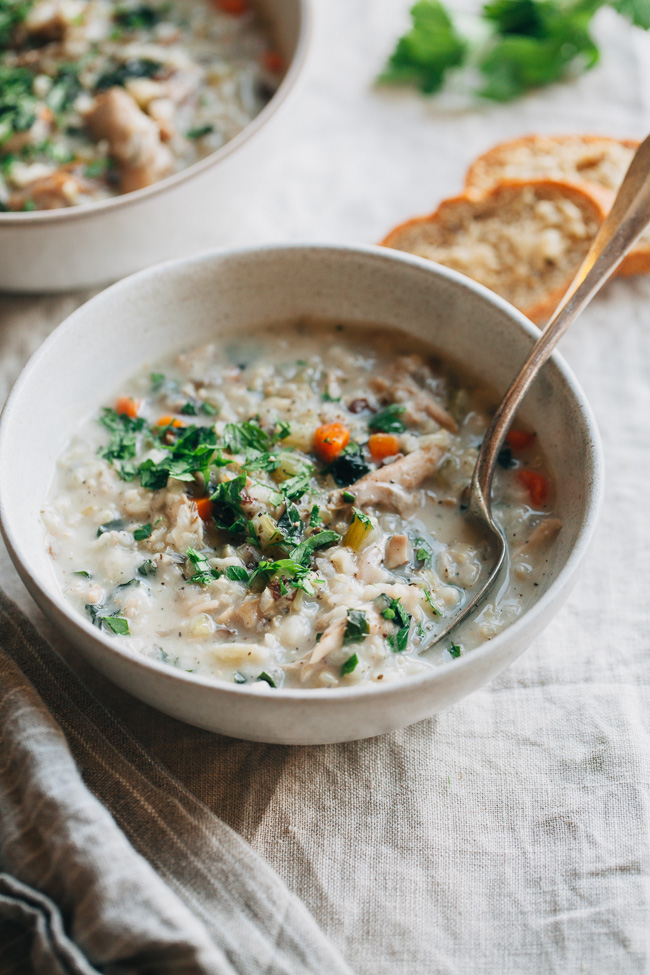 Print
Slow Cooker Turkey Rice Soup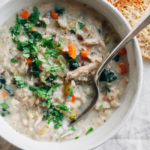 Ingredients
2 tablespoons extra-virgin olive oil
1 1/2 cups chopped onion
1 cup finely chopped carrots
1 1/2 cups finely diced celery
8 ounces cremini mushrooms, chopped
2 tablespoons minced fresh sage or 2 teaspoons dried sage
2 teaspoons fine grain sea salt
1 teaspoon ground black pepper
4 cups shredded cooked turkey, about 1 pound
3/4 cup wild rice blend mix, soaked overnight and rinsed
3/4 cup short grain brown rice, soaked overnight and rinsed
8 cups turkey broth
4 cups chopped kale
2/3 cup heavy cream
chopped parsley for ganish
Instructions
In a large skillet, heat olive oil over medium heat. Add the onions, carrots, celery, and sauté until onions begin to soften, about 3-4 minutes. Add the mushrooms, sage, salt, and pepper and cook for another couple of minutes, until mushrooms begin to release their liquid.
Transfer vegetables to slow-cooker. Stir in turkey, rice, and broth. Cover and cook for 6-8 hours on low. Rice should be tender and soup should be thickened by the rice. Stir in chopped kale and cream 30 minutes before ready to serve. Garnish with chopped fresh parsley, if desired.