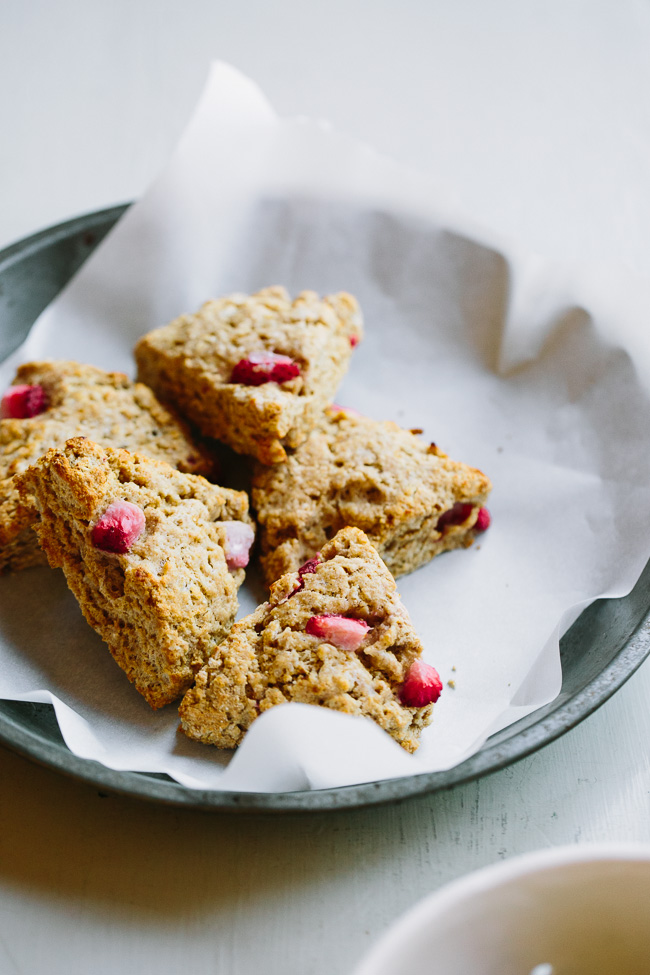 There's a tendency for me to dream about lazy idyllic summers in a most idealistic sort of way.  I think of slow and free-spirited days turning into quiet peaceful evenings with lots of laughter in between.  Although no summer has ever been perfect, I do have memories of at least some resemblance to my ideals.  I remember many mornings of lingering around the breakfast table talking or reading aloud with the children.  We seemed to have plenty of space to plan fun and spontaneous outings to the berry farm, park, or whatever else might sound good for a given day.  For various reasons this summer has not quite been the same, and my role has become much more a cheauffer than anything else.  This may be just the reality of children growing up and them becoming more committed and involved in their own activities, but I'm still adjusting.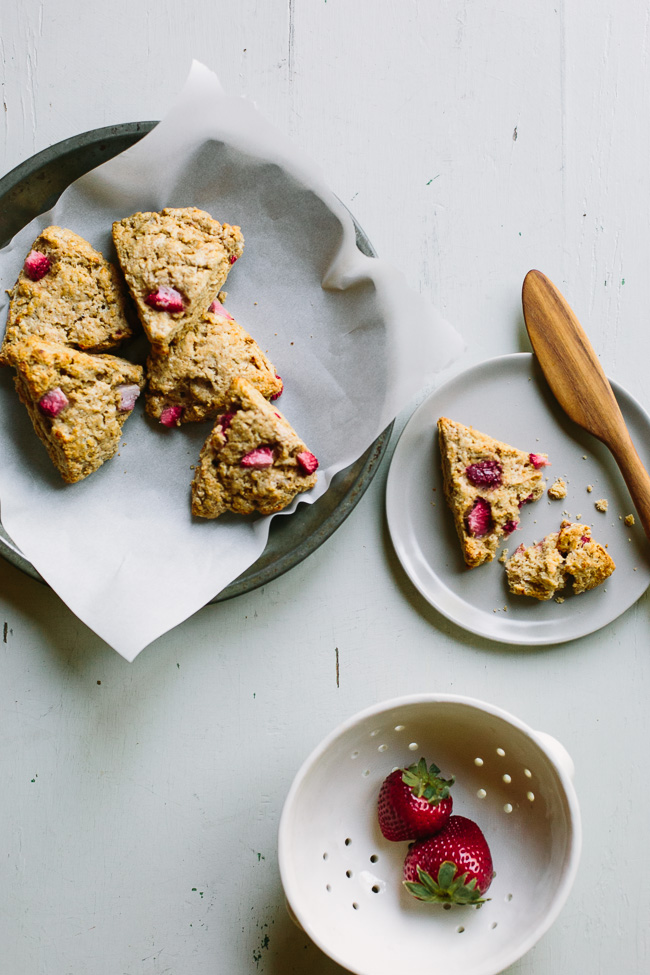 Even so with busier summer mornings, I still like to hold onto special breakfasts at least a couple times a week.  With our local strawberry season coming to an end, I thought it would be nice to make these strawberry oat yogurt scones as a last treat.  I love a good cream or buttermilk scone, but cream and buttermilk aren't staples I keep in fridge so I often make this yogurt version which works surprisingly well.  Yogurt keeps the scones tender in the same way that buttermilk does and also keeps the scones a bit lighter than using cream.  These scones are completely whole grain but still quite light thanks to the combination of oat and pastry flour.  They are just barely sweet so serve with a slather of good quality honey or preserves if your preference is for sweeter.  We do find that if the strawberries are ripe and sweet, those bits of juicy strawberries scattered throughout are all we need.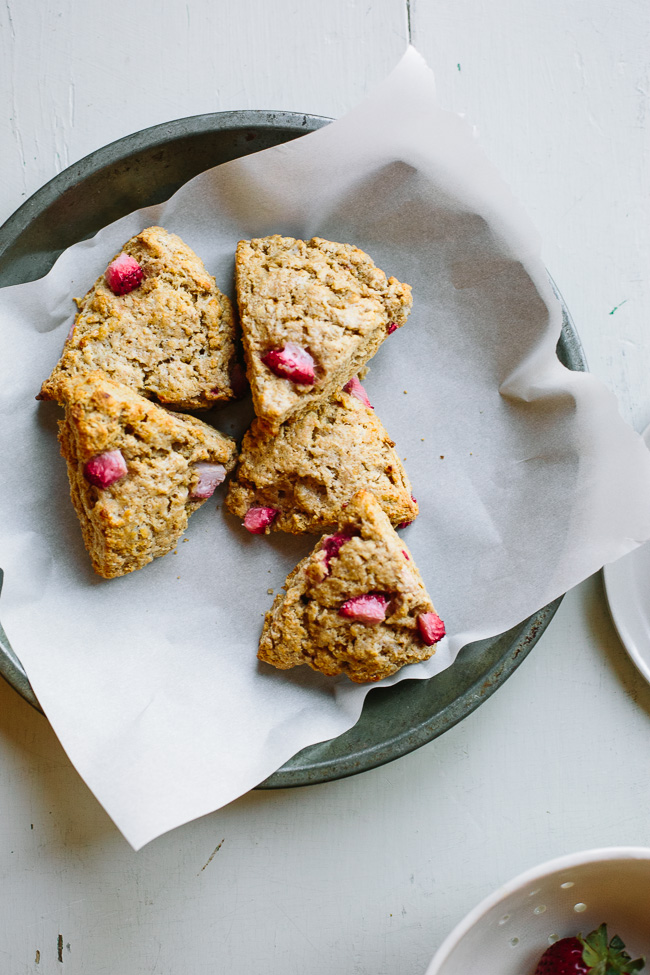 Print
Strawberry Oat Yogurt Scones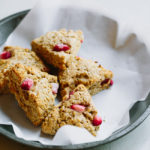 Prep Time:

15 mins

Cook Time:

15 mins

Total Time:

30 mins

Yield:

12 scones
Ingredients
1/2 cup rolled oats
1 1/2 cups whole wheat pastry flour
3-4 tablespoons coconut sugar
1 tablespoon baking powder
1/4 teaspoon baking soda
1/2 teaspoon salt
6 tablespoons cold unsalted butter
1 large egg
1/2 cup plain yogurt, plus extra for brushing scones
1 teaspoon vanilla
3/4 cup diced strawberries
Instructions
Preheat oven to 400. Line a baking sheet with parchment paper. Set aside.
In a mini food processor or spice grinder, process the oats until it becomes a fine flour.
In a large mixing bowl, whisk together the oat flour, pastry flour, sugar, baking powder, baking soda, and salt. Cut butter into small cubes and scatter over the dry ingredients. Use a pastry blender to cut the butter cubes into the flour mixture until it resembles coarse crumbs.
In a small mixing bowl, whisk together the egg, yogurt, and vanilla. Add the wet ingredients to the dry ingredients and stir with a wooden spoon until just combined. Use a spatula to gently fold in strawberries.
Transfer dough to a well-floured surface and form two circles about 1/2″ thick. Use a floured knife to cut each circle into 6 wedges. Transfer scones to the baking sheet, leaving at least 1″ between each.
Use a pastry brush to lightly brush scones with yogurt. Bake 12-15 minutes, until golden brown around the edges.