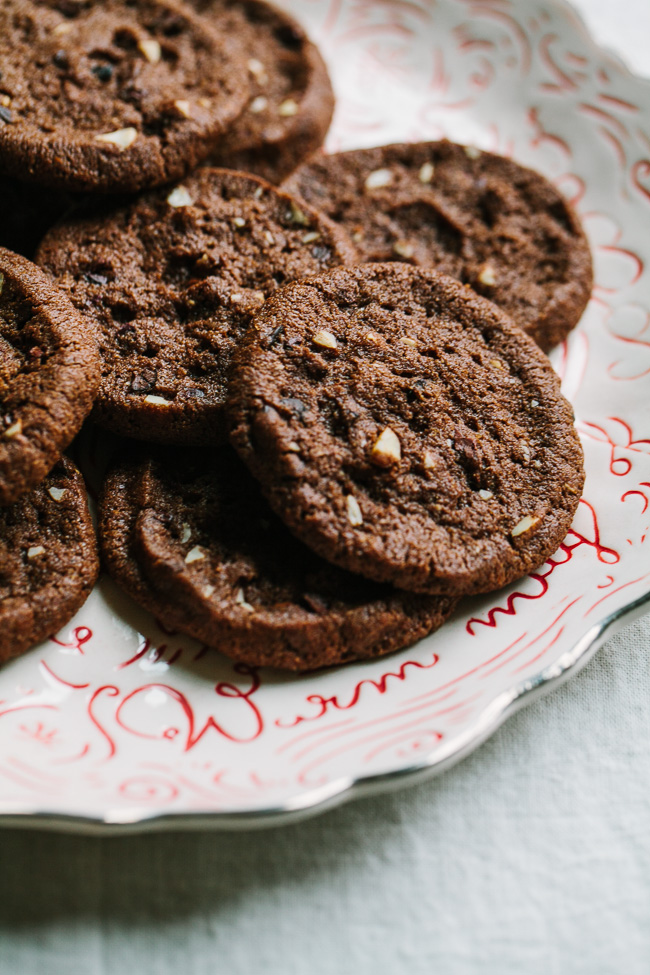 For as busy and stressful as December can be, I still love it for its reminders of hope and joy, and also for its richness in celebrating traditions.  Ryan's family makes the same lebkuchen, fudge, and bourbon balls year after year, and they always bring back sweet memories of loved ones and happy times together.  As a child, I always looked forward to the scent of homemade gingerbread houses in the oven.  My mom would stay up all night baking gingerbread walls and roofs for me and my cousins, and in the morning everything was magically ready for assembly, with heaping bowls of candy and icing for us to decorate to our heart's delight.  As our own family has begun forming our own traditions, there are a few recipes I hope will make yearly appearances- our biscotti tree, these classic gingerbread boys and girls, and Christmas morning stollen.  I always make sure to leave at least some room to add something new each year as well.  I've had my eye on Dorie Greenspan's world peace cookies for a while now, and decided that this year seemed especially appropriate for making cookies so fondly named "world peace".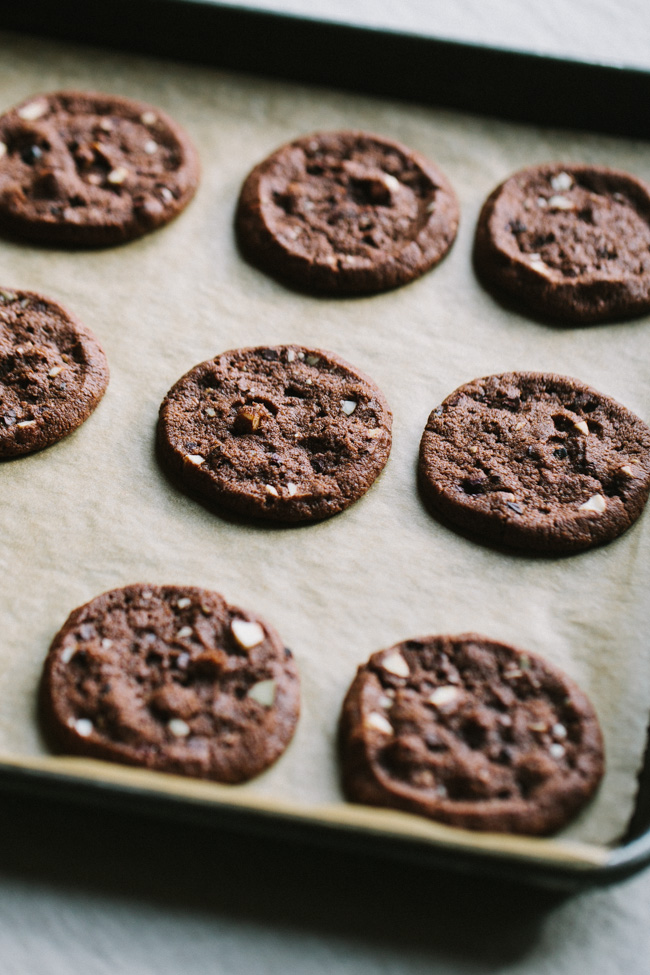 I used whole spelt flour rather than the all-purpose and found the subtle nuttiness a perfect complement to the cocoa.  Everything written about these cookies is true- they have sandy texture similar to a sable, but with slightly crisp edges and a really great chewy middle.  I added some chopped almonds for good measure, and used cacao nibs for crunch and also to keep them from being overly sweet.  The original recipes calls for chopped dark chocolate so I'd go that route if you're looking for a more intense chocolate flavor.  I played around with the idea of dipping these into some melted chocolate and sprinkling them with some glittery sugar, but after tasting one I decided that they were just perfect as is.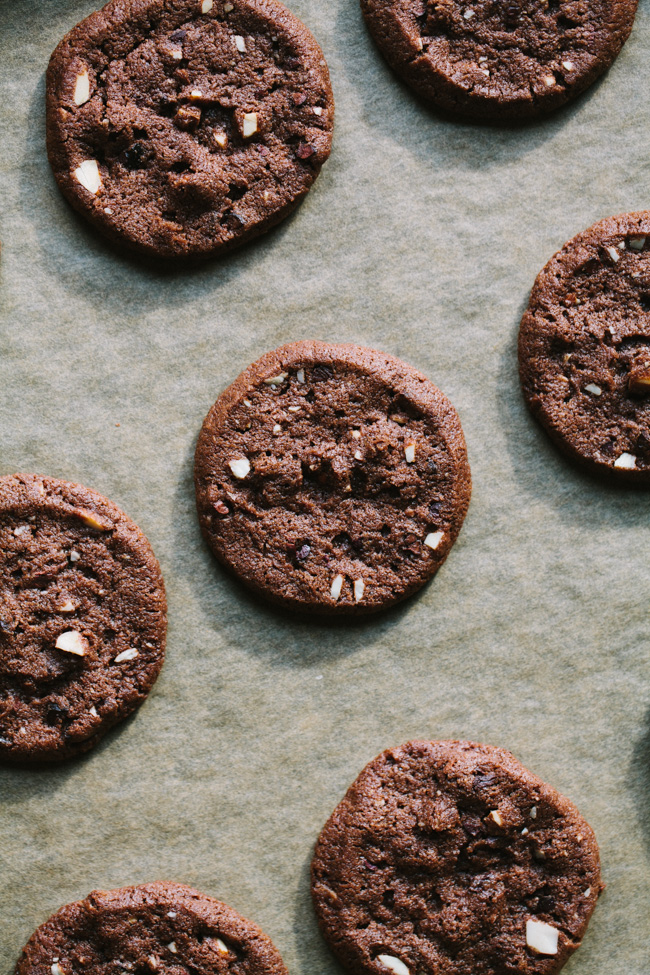 Natalie and Holly from The Modern Proper are hosting a virtual cookie exchange and these are the cookies I'm bringing along to their #calmandbrightcookienight.  Just in case you're still in need of some cookie inspiration, head on over to their blog to see their full list of holiday cookies.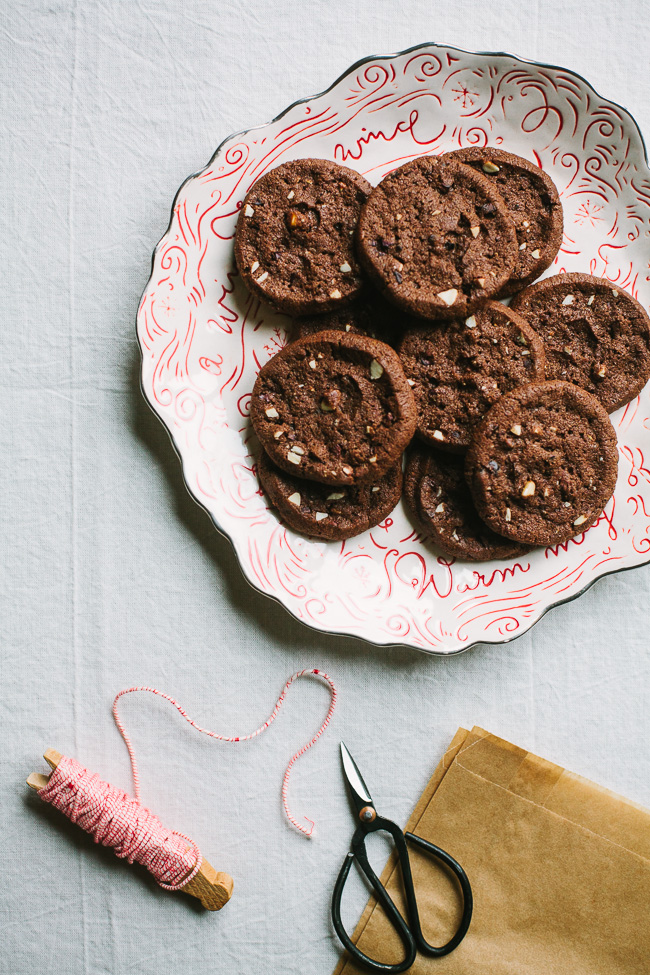 Print
Chocolate Almond Spelt Cookies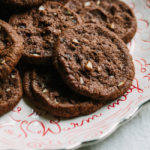 Ingredients
1 1/4 cups (175 grams) whole spelt flour
1/3 cup (30 grams) unsweetened natural cocoa powder
1/2 teaspoon baking soda
1 stick plus 3 tablespoons (11 tablespoons) unsalted butter, room temperature
2/3 cups (packed) light brown sugar
1/4 cup granulated sugar
1/2 teaspoon fleur del sel or 1/4 teaspoon fine sea salt
1 teaspoon pure vanilla extract
1/4 cup cacao nibs or 1/2 cup chopped dark chocolate
1/3 cup chopped almonds
Instructions
In a medium bowl, whisk together the flour, cocoa powder, and baking soda.
In the bowl of a stand mixer, beat the butter on medium-high speed until creamy and smooth. Add both sugar, salt, and vanilla, and beat again until mixture is light and fluffy, about 2 minutes.
Add the dry ingredients to the mixer and mix on low speed to incorporate. Do not overmix, it's okay if the dough is a bit crumbly. (A kitchen towel draped over the mixer can help prevent flour from flying everywhere.) Use a wooden spoon for spatula to gently mix in the almonds and cacao nibs or chocolate.
Gather and dough together into a ball and divide in half. Shape each half into a log 1 1/2 inches thick. Chill logs in refrigerator for at least 3 hours and up to 3 days.
Preheat oven to 325 with a rack in the center of the oven. Line 2 baking sheets with parchment paper. Working with one log at a time, carefully slice each log into rounds about 1/2-inch thick. If some of the dough crumbles off, press and shape back into the rounds. Place cookies on prepared sheets leaving an inch of space between each.
Bake one sheet at a time for 12 minutes. Cookies will not look done, but it's important not to overbake if you want chewy cookies. Cool on sheet for 10 minutes before removing to wire rack to finish cooling, or serve cookies warm.
Notes
very slightly adapted from Dorie Greenspan
If you have a kitchen scale, measuring by weight is preferred for these cookies