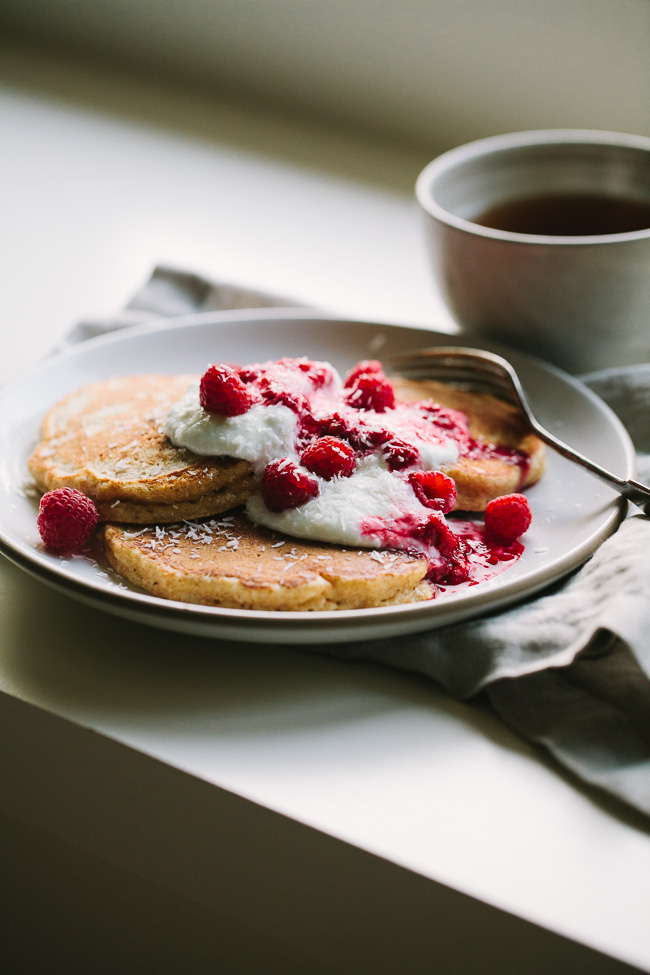 We had the pleasure of dining at the American Spoon Cafe this past summer during a family weekend up in northern Michigan.  We ended up eating there twice in the same weekend because there were just so many things on their menu that we couldn't resist (unusual since we usually try to experience as many new places as we can when we travel).  On one of those occasions, both of our kids ordered adult-sized portions of their lemon ricotta pancakes.  My oldest cleaned up his plate without any hesitation and my youngest came very close to finishing hers.  To say they tasted good would be an understatement.  Incredibly scrumptious would be more like it.  I wanted to make a whole grain version of those same pancakes at home, partly to reminisce about our summer travels and partly because I wanted a plate for myself this time.
These pancakes are light and fluffy and the insides are soft and moist, even more so than what you might expect from a more traditional pancake recipe.  I made a simple raspberry sauce to drizzle over with the fall crop of raspberries that are now in season.  We had a little girls' sleepover here at the house a few weeks ago and I surprised the girls with these pancakes for breakfast.  Their squeals of delight made waking up a little early completely worth it.   You can never go wrong with starting the day out with pancakes, especially these pancakes.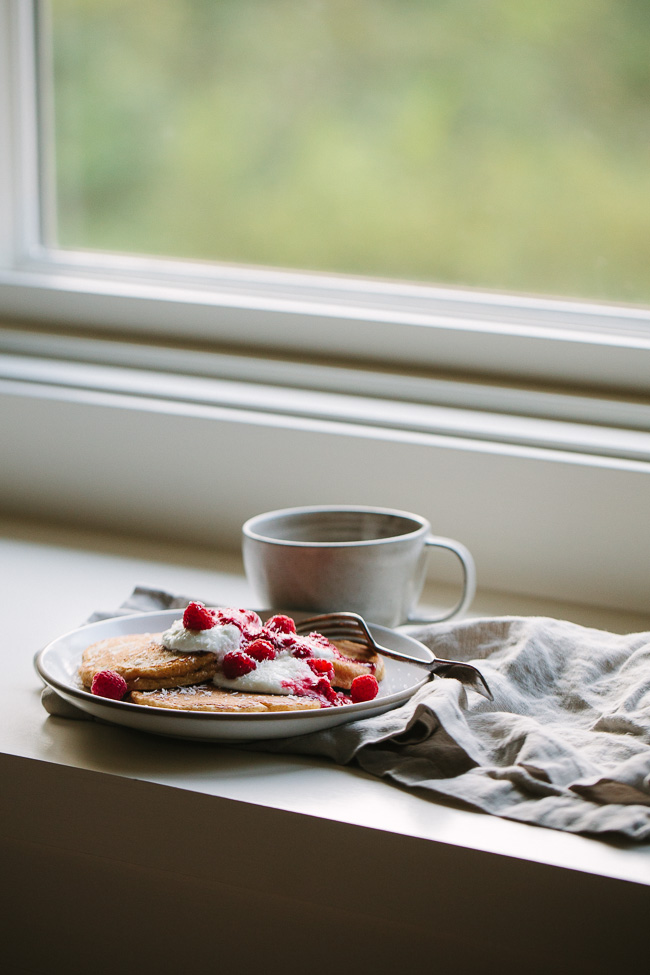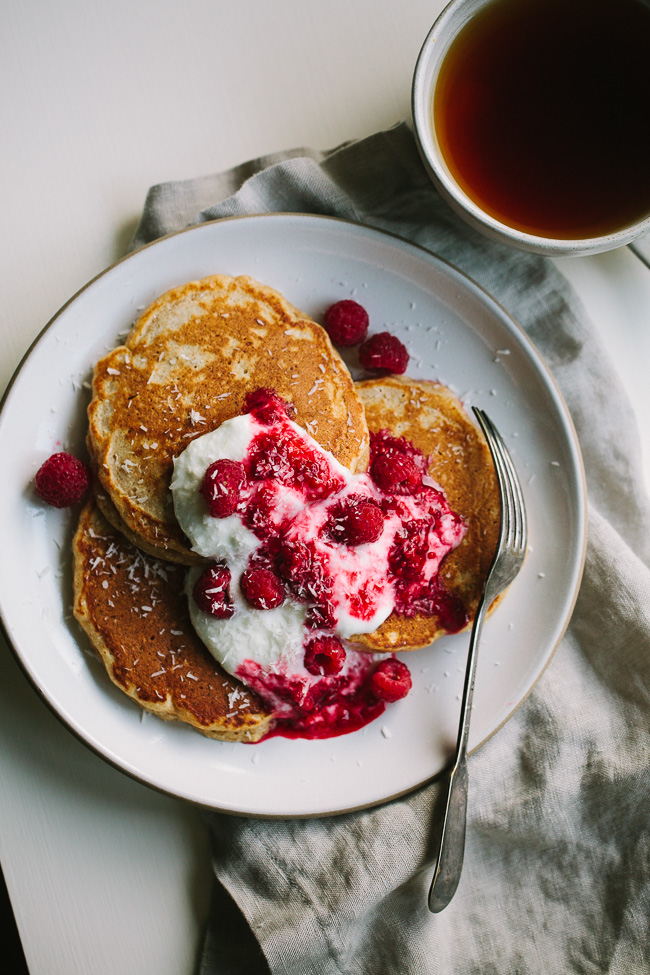 Print
Lemon Ricotta Pancakes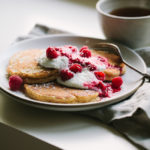 Ingredients
3/4 cup whole wheat pastry flour
1/2 cup spelt flour
1 1/2 teaspoons baking powder
1/2 teaspoon fine grain sea salt
3 eggs, separated
3/4 cup milk, preferably whole
3/4 cup whole milk ricotta
2 tablespoons honey
2 tablespoons unsalted butter, melted
zest of 3 lemons
1/2 teaspoon vanilla
Raspberry Sauce
2 cups fresh or frozen raspberries
2 teaspoons honey
1 teaspoon arrowroot or cornstarch
Instructions
In a large mixing bowl, whisk together the flours, baking powder, and salt.
In a medium mixing bowl, whisk together the egg yolks, milk, ricotta, honey, butter, lemon zest, and vanilla. Add dry ingredients to wet ingredients and whisk until just combined.
Whip the egg whites together until they form soft peaks. Gently fold the egg whites into the batter.
Melt a small amount of butter to coat a large skillet or griddle. Ladle the batter onto the griddle, about 1/4 cup for each pancake. Cook for 2-3 minutes until the underside is golden and then flip to the other side and cook for another 2-3 minutes, until golden. Repeat with remaining batter until batter is used up.
Serve warm with yogurt and raspberry sauce, if desired.
Raspberry Sauce
In a small saucepan, combine the raspberries, honey, and arrowroot. Stir over medium heat until raspberries soften and begin to release their liquid, using a wooden spoon to gently mash the berries as you stir. Continue stirring until mixture thickens slightly. (I don't mind a slightly chunky sauce, but use a blender to puree if you prefer a smoother sauce.)