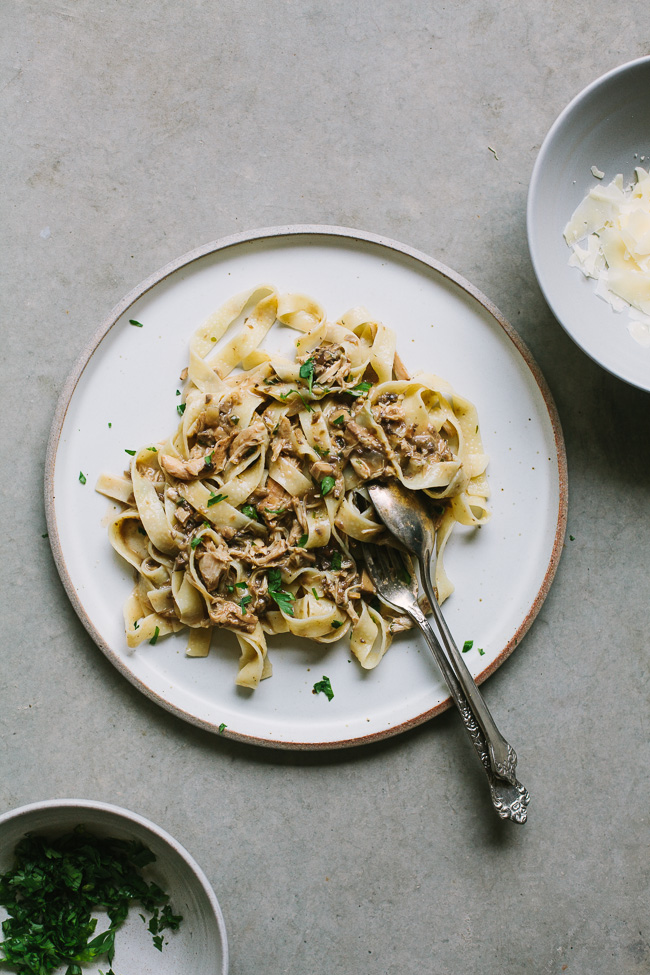 My sister's family visited for a few days last week and although the physical distance between us makes me a bit sad, it makes the times we do share feel that much sweeter and special.  When we only have three days together, we make the most of it.  I welcomed her family that first evening with cozy bowls of this chicken mushroom pasta along with a heaping platter of this salad.  I relish being around the table together, sharing a meal, nourishing our bodies and our hearts.
This recipe is just barely adapted from America's Test Kitchen Slow Cooker Revolution, the book I nearly always lean on when I need a good slow cooker recipe.  In all my times browsing through the book, "Chicken and Mushroom Sauce" had not struck any interest until just recently.  The simplicity and earthiness suddenly appealed to me, and I was able to see past the humble title and ingredients.   Slow cooking mushrooms, onions, and chicken in a white wine broth indeed creates a sauce with incredible flavor.  Porcini mushrooms add depth, a bit of cream and parmesan add a touch of richness, and fresh parsley brightens it all up.  Serve over a high quality pasta and you won't regret it.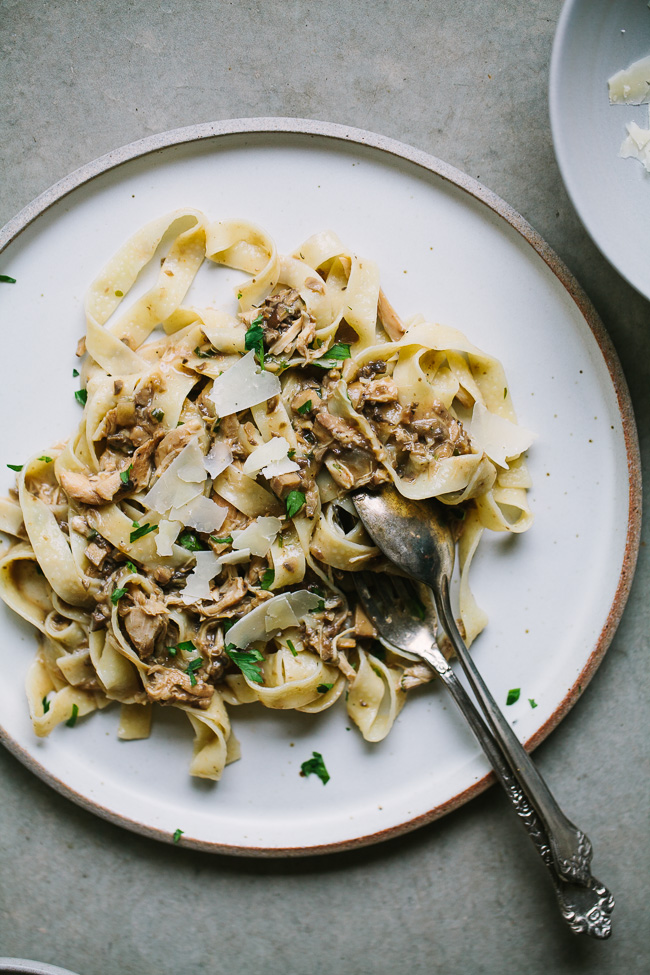 Print
Slow Cooker Chicken and Mushroom Pasta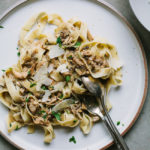 Cook Time:

5 hours

Total Time:

5 hours

Yield:

6 servings
Ingredients
1 1/2 pounds boneless, skinless chicken thighs, trimmed
kosher salt and ground black pepper
1 tablespoon extra-virgin olive oil
1 onion, finely diced
1/2 ounce dried porcini mushrooms, soaked 10 minutes in hot water, drained and minced
6 garlic cloves, minced
2 teaspoons tomato paste
1 tablespoon minced fresh thyme or 1 teaspoon dried
1 pound cremini mushrooms, diced (see note)
1 1/2 cups low-sodium chicken broth
1/2 cup dry white wine
2 tablespoons instant tapioca
1/4 cup heavy cream
1/2 cup grated Parmesan cheese
3 tablespoons minced fresh parley, plus extra for garnishing
1 pound pasta (I used tagliatelle)
Instructions
Season both sidse of chicken pieces with salt and pepper. Set aside.
In a skillet, heat the olive oil over medium heat. Add the onion, porcini mushrooms, garlic, tomato paste, thyme, and a generous pinch of salt and pepper. Cook until onion is softened, about 5-6 minutes, stirring occasionally. Transfer to slow cooker.
Add mushrooms, broth, wine, and tapioca to slow cooker and stir to combine. Nestle chicken pieces into the slow cooker, being sure to keep chicken covered with liquid. Cover and cook on low heat until chicken is tender, about 4-6 hours.
Use a slotted spoon to transfer chicken pieces to a bowl and allow it to cool slightly. Use two forks to shred chicken into bite size pieces. Return shredded chicken to the slow cooker. Stir in cream and parmesan and cook for another few minutes until heated through. Season to taste with additional salt and pepper. Right before serving, stir in the parsley. Toss with pasta and garnish with additional parsley and parmesan.
Notes
*Barely adapted from Slow Cooker Revolution
*I used a food processor to chop the mushrooms. If you go this route, be sure not to over process.