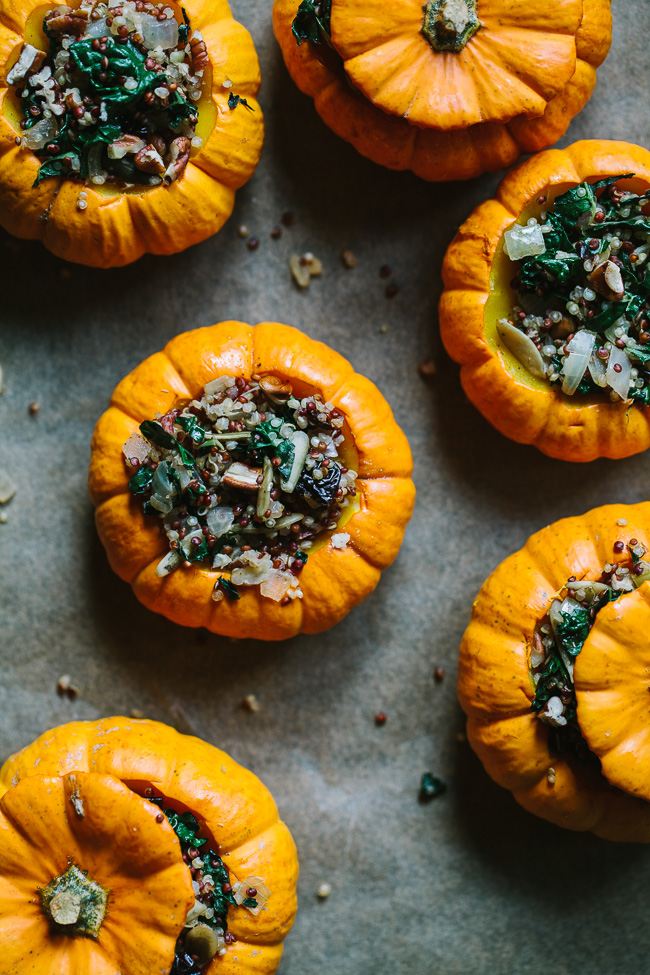 Our local raspberry farm was running a special on mini pumpkins this year- an entire bucket (nearly 40!) pumpkins for eight dollars.  I had just volunteered to supply my daughter's class with mini pumpkins for their decorating activity at this year's harvest party, so you can imagine how happy I was.  Inexpensive AND I was able to support a local farm- perfect.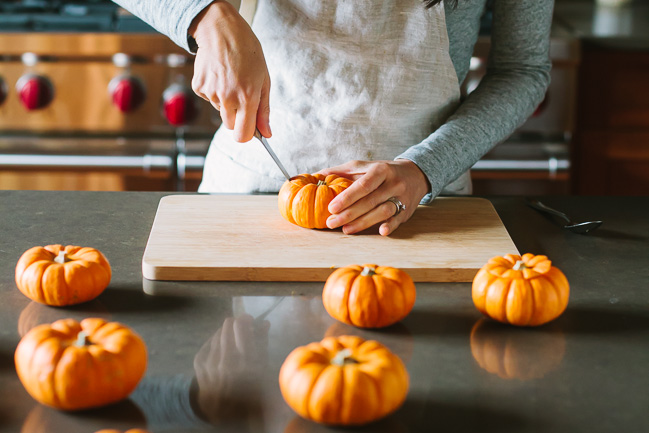 As I thought about what to do with the extra pumpkins, I was intrigued and excited when I came across this article from the Kitchn.  Goodness, we've had so many years of buying and throwing out mini-pumpkins because I wrongly assumed they were only decorative.  Never again.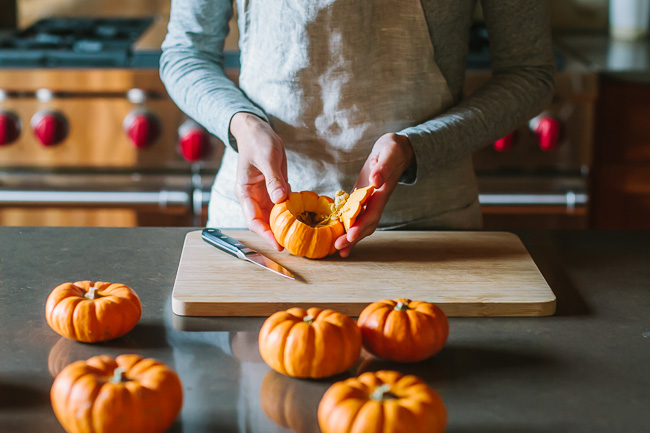 My initial ideas were to fill the pumpkins with some sort of cheesecake or custard, but I made these on Halloween and there were already going to be enough sweets that evening.  Instead I went with the filling from my quinoa stuffed acorn squash for a more savory approach.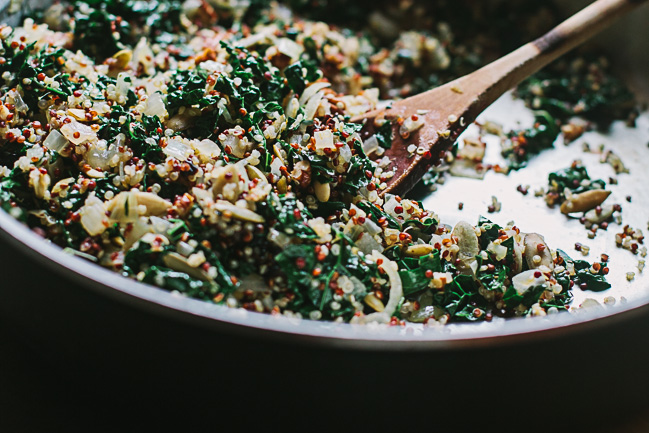 The quinoa recipe is flexible and easily adapted to using whatever variety of greens, nuts, and fruit you have on hand.  I used kale instead of swiss chard, pecans instead of hazelnuts, cranberries instead of cherries, and it turned out to be quite a lovely combination.  I imagine these little pumpkins being such a charming addition to any Thanksgiving table and a delicious alternative for any vegetarians.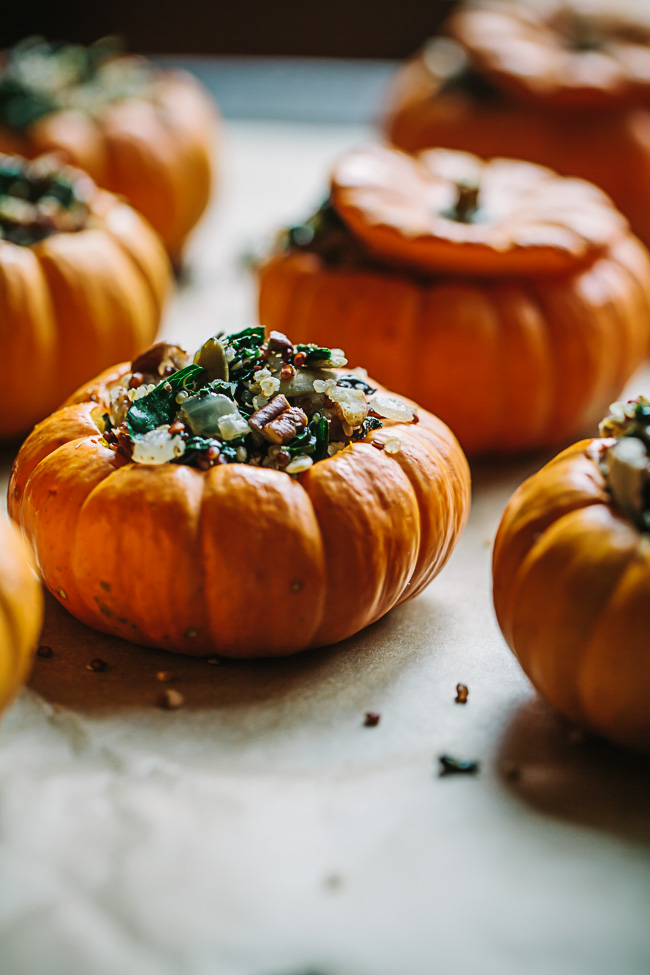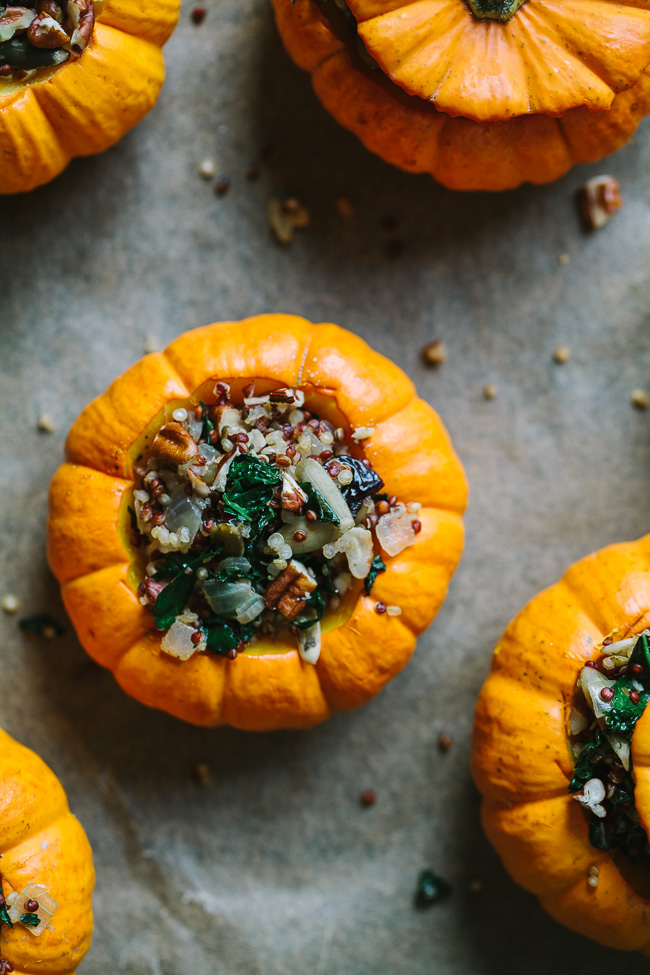 Print
Stuffed Mini Pumpkins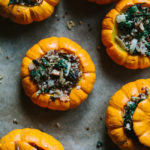 Ingredients
8 mini-pumpkins (see note)
2 teaspoons olive oil, plus more for brushing on pumpkins
½ cup quinoa, uncooked (I used half red, half white quinoa)
1 cup finely chopped yellow onion, about 1 medium
3 cups lightly packed kale
1 tablespoon fresh oregano
¼ cup toasted pecans, chopped
½ cup pepitas (raw pumpkin seeds)
¼ cup dried cranberries
¼ teaspoon sea salt
⅛ teaspoon ground black pepper
additional salt and pepper for seasoning squash
Instructions
Preheat oven to 350. Line a baking pan with parchment paper.
Carefully cut tops off of the pumpkins and scrape out the seeds. Brush the insides with olive oil and season with salt and pepper. Replace the tops back onto the pumpkins.
Bake for 30-40 minutes, until the flesh of the pumpkins are soft and tender.
While pumpkins are baking, make the filling. In a medium pot, boil 3-4 cups of water over high heat. Rinse the quinoa in a fine mesh strainer. When the water is boiling, slowly add the quinoa and boil uncovered for 11-14 minutes. After 10 minutes, start checking the quinoa for doneness. The quinoa is done when the "dot" in the middle of the quinoa starts to disappear and when some of the white filaments start to come off the seeds. Drain the quinoa over a fine mesh strainer.
In a saute pan, heat olive oil over medium heat. Add onions and sauté until onions start to become translucent, about 4-5 minutes. Add the oregano and kale and continue to cook for another minute. Add the cooked quinoa, pecans, pepitas, cranberries, salt, and pepper. Continue to cook until the mixture is warmed through. Season to taste with additional salt and pepper.
Spoon quinoa mixture into the mini pumpkins and garnish with some additional chopped pecans. Serve with tops on or off to the side.
Notes
Be sure that the pumpkins are not coated with a thick glossy wax- those are intended for decorative use only.