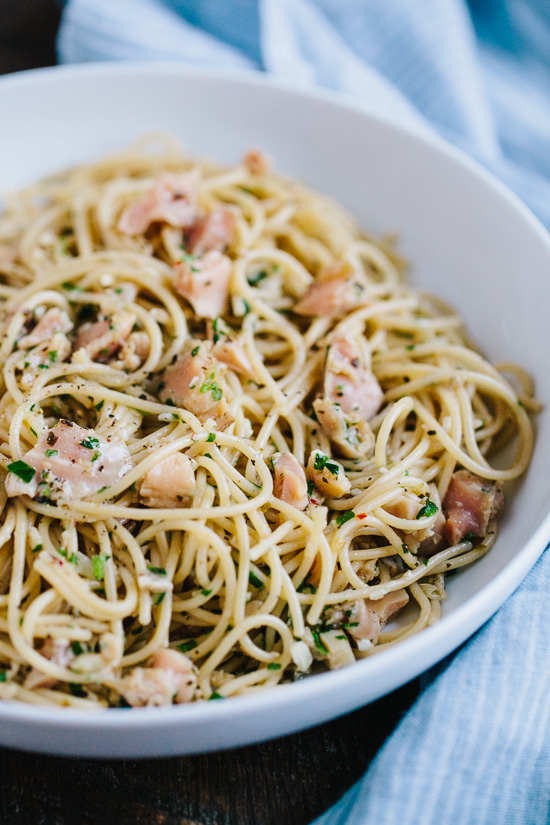 As much as I try to cook with the freshest possible ingredients, there are days when a trip to the store is long overdue and the refrigerator is sparse.  Those are the days that call for pantry pasta dinners and this linguini with clam sauce is my son's favorite.  I am his hero whenever I make this.  (As you can see from the photo, I actually used spaghetti since I didn't have any linguine on hand, but calling it "spaghetti with clam sauce" didn't quite have the same ring as "linguine with clam sauce." )  Sometimes I wonder why I bother making more complicated meals when my kids are totally content with simplicity.  I always make sure to keep my pantry stocked with several cans of canned clams just for days when I need to throw together a quick dinner.  While nothing really beats the flavor of fresh clams, canned clams are still delicious and so much more convenient.  The wonderful thing about this pasta is that if you have canned clams, white wine, and fresh parsley, you probably have everything else on hand to pull this together.  I would not recommend substituting dried parsley for the fresh as the fresh parsley really adds a brighter flavor and a sprinkle of color.  From start to finish, this meal takes 15 minutes tops to prepare.  So many things to love about this pasta!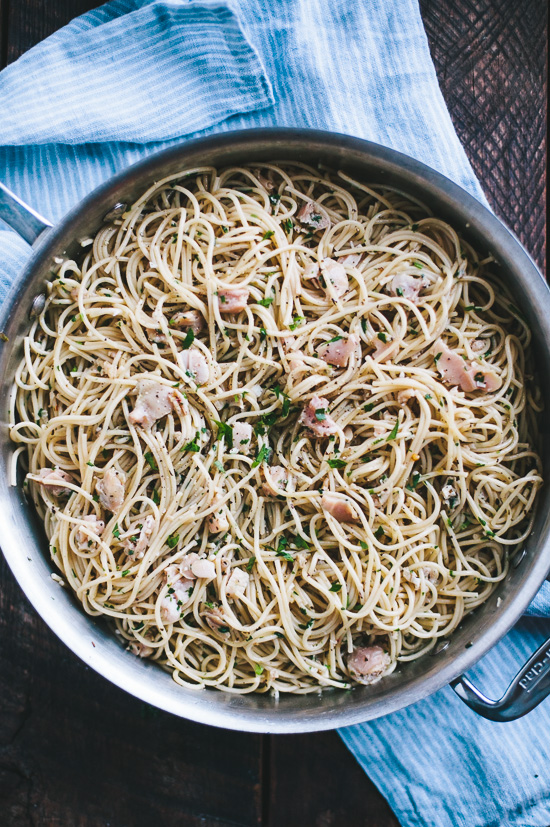 Print
Pantry Linguini with Clam Sauce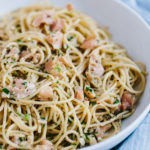 Ingredients
1/4 cup extra-virgin olive oil
3 cloves garlic, minced
1/8 teaspoon crushed red pepper
3 6.5-ounce cans chopped clams
1/3 cup white wine
1 teaspoon dried basil
1 teaspoon dried oregano
3/4 teaspoon kosher salt
1/8 teaspoon ground black pepper
3 tablespoons fresh parsley, chopped
12 ounces linguine or spaghetti, cooked according to package directions
squeeze fresh lemon juice
extra chopped parsley for garnishing
Instructions
In a large pot or saute pan, warm the olive oil over medium heat. Add garlic and red pepper and stir for 1 minute, until fragrant. Add undrained clams and juice, wine, basil, oregano, salt, and pepper. Simmer for 5-8 minutes, stirring occasionally. Add parsley and simmer for an additional minute.
Add noodles and a squeeze of fresh lemon juice. Toss and cook until heated through. Season to taste with additional salt and pepper. Serve with additional chopped parsley and crushed red pepper, optional.
link